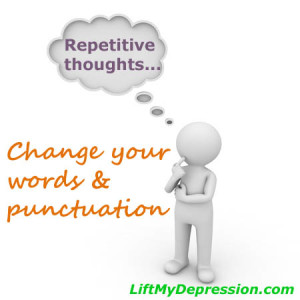 Today's LiftMyDepression challenge is to play with one persistent thought that occupies the most space in your head.
Depression often generates repetitive thoughts:  the ones that go on and on in your mind no matter where you are or what you do.
Do you constantly ask yourself the same question? (e.g. "Why am I so depressed?") 
Do you continuously state an emotional "truth" ending with a massive exclamation mark? (e.g. "I am such a waste of space!")
Do you just often whisper to yourself the same semi-finished sentence? (e.g. "If only I knew…")
Write down one of your persistent thoughts and try to get it unstuck by playing with it. Can you end it with a new punctuation mark? Can you create a different sentence along the same theme with a new punctuation mark at the end?
Select and alter the words till your new sentence feels empowering!
"Why am I so depressed?" can become "I am recovering from depression…"
"I am such a waste of space!" can turn into "What can I do right now towards my self-care and self-esteem: a nourishing meal, a shower, fresh air?"
"If only I knew…" can become "Forward! Onwards!"
Have a go! Write down your sentence and play with it: change your words and punctuations, insert and delete them as you wish.  Please, do not stop just because you don't believe in your new sentence. Your challenge for today is to have fun in creating a new and empowering one!
If you struggle to do it on your own, gather your courage and post your thoughts here.
Also, it would be great if you can share your insights, as your thoughts can be such an inspiration to others!
 Love, light and healing! Kat x
Original image by: 123rf.com