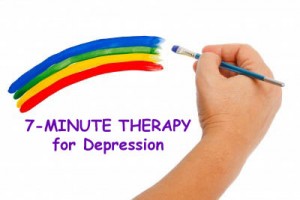 Therapy… What comes to your mind when you say this word?
For me personally, it is firmly associated with the word 'years'.
As in years of therapy!
Somehow, while our modern world has managed to get faster and faster, the duration of therapeutic interventions has managed to stretch and keeps stretching…
I don't know about you, but it does not seem right to me! 
I want therapies to be fast!
I expect the first session to ignite at least some changes in me and my thinking.
In fact, I expect some internal changes to begin after the first few minutes of therapy!
With this in mind, I am starting a new series:  7-MINUTE THERAPY for Depression.
Today's therapist is Virginia Satir. You might remember her from one of my  blog posts.
So, over to Virginia:
What I liked in this video:
Her 'Jets' metaphor!
'The idea that the event is never that which determines your fate. It's your coping with the event. Death, sickness, all kinds of things happen to human beings. All the fate of what happens as a result, is in the coping…' – Virginia Satir.
'What I think what a reality is, is what I see. What I see is not a total reality. And here when the back comes in. You've got a back and everybody has got a back, but how many people have seen it? A lot of other people have seen you back, but you don't see it'. – Virginia Satir.
Feelings are not the parts of you that decide what should happen! 'Feelings are like a temperature, a thermometer which say what things are. You move to another part of yourself when you make decisions' – Virginia Satir.
What about you? What did you find useful?
Love, light and healing xx