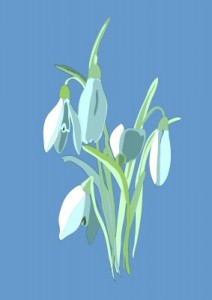 I came across this beautiful affirmation that I must share with you. It's from a book by Rokelle Lerner called 'Affirmations for the Inner Child'. Hope you will find these words powerful and encouraging too.
I am creating a healthy future.
Snow drifts to the ground in soft white flakes, changing the shape and the look of the land. When the snow is thick and deep, it hides everything, both beautiful and ugly. Abandoned cars, garbage, flowers and gardens become vague shapes in the fields of endless white. It is not until spring that we really know what lies beneath the snow. I have buried my past underneath many feet of snow. This beautiful cover hides the good and the bad alike. New growth and new healing cannot take place until spring comes.
Today I will no longer be afraid of spring. I will welcome it. When my past is revealed, I will remove the old debris and reflect on the good memories there. Then, like a loving gardener, I will plant seeds, encouraging new growth. In this season of rebirth I am creating a healthy future by tending to my recovery.
Stay strong, remain hopeful and seek inspiration! 
P.S. What are the precious  'snowdrops' underneath your snow of depression? Please share, as your beautiful memories can give a gift of inspiration to so many people.
Photo by: 123rf.com