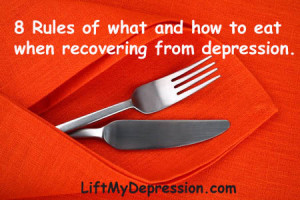 Last week I promised to share with you what I consider a good diet when suffering with depression.
Please bear in mind that this is what I personally follow to keep my energy levels up and even, and my brain healthy, creative and vibrant.
These are my rules and I do not claim that everyone should/must/ought to follow them. Neither can I claim that if you religiously follow them, your depression would miraculously be lifted after a week or so.
I have studied nutrition for a few years now and I am very lucky to be learning from my amazing mentors who understand nutrition well and are based in four different countries across the globe (UK, USA, China and Russia).
I encourage you to use my rules as your tools. Use the best, discard the rest!
So, here are my rules of what and how to eat when recovering from depression:
Eat 5-6 small meals a day.
Food gives us energy: the very thing that depression takes away from us. So, it is vital to provide your body (especially your mind) with a regular and consistent supply of energy.
Just beware, that eating too much food in one sitting can deplete your energy (You have probably experienced it after a huge dinner). Digesting food is energy-consuming. Therefore, keep your portions small and eat often (every 3-4 hours during the day).
Note: a small portion should fit in the palms of your folded hands forming a bowl, without spilling over.
Do not attempt to go on a diet or change your food drastically all at once.
Depression recovery is not the right time to diet or lose weight.
Neither is it a time to throw your usual diet out of the window and load yourself with something "trendy", portrayed by the media as a new magical cure for depression.
Yes, you can add or take away things over time, but doing it abruptly or all at once would send your brain haywire.
It can make you irritable in no time. It can lower your mood further and it can make you feel really bad should you decide to put a stop to this self-abuse.
So, please no dieting!
Warning: If you are a vegetarian or vegan, consider giving it up immediately until your depression is lifted! You job is to feed yourself properly to raise your energy levels to assist your recovery. As far as I know, it is very challenging to obtain all the needed amino acids, vitamins and heme iron, in particular, via vegetarian or vegan diet.