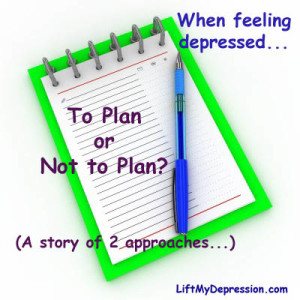 In my previous post, I promised to illustrate the importance of planning your day.
So, here it is:
Let me introduce a fictional character called Maggie. She is suffering with depression. She is in her mid-thirties, married to James and has an 8 years-old son Dillon. Maggie is a housewife, as she does not feel she is fit to go back to work since having her first episode of depression 6 years ago. She still drives and sees her old school friend Sally on occasion.
Take 1
Maggie's alarm clock rings at 7:30am. She remembers the first item on her 'To Do' list:

"GET UP at 7:30". Even though she does not feel like getting up and is feeling totally exhausted, she drags herself into the bathroom and starts her morning routine. Despite her aching body and low mood, she dresses up and enters the kitchen.