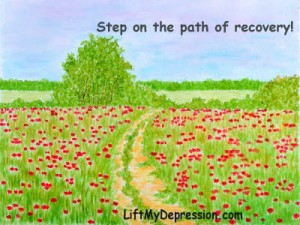 There is something good in your life right now, at this very moment.
It is probably hard for you to see it, let alone to name what exactly is good.
Your mind may be saying 'nothing is good' or even worse: 'nothing will ever be good'. Why do we humans choose to believe our thoughts?
Close your eyes and listen to your heart…
Take a deep breath and listen to your body…
Life runs in you! Life runs through you! You are life! You are precious, wonderful, sacred life!
Yes, you have Depression standing next to you. She is holding you by your shoulders, but she is not your enemy.  Continue Reading »